How long does it take to form a habit?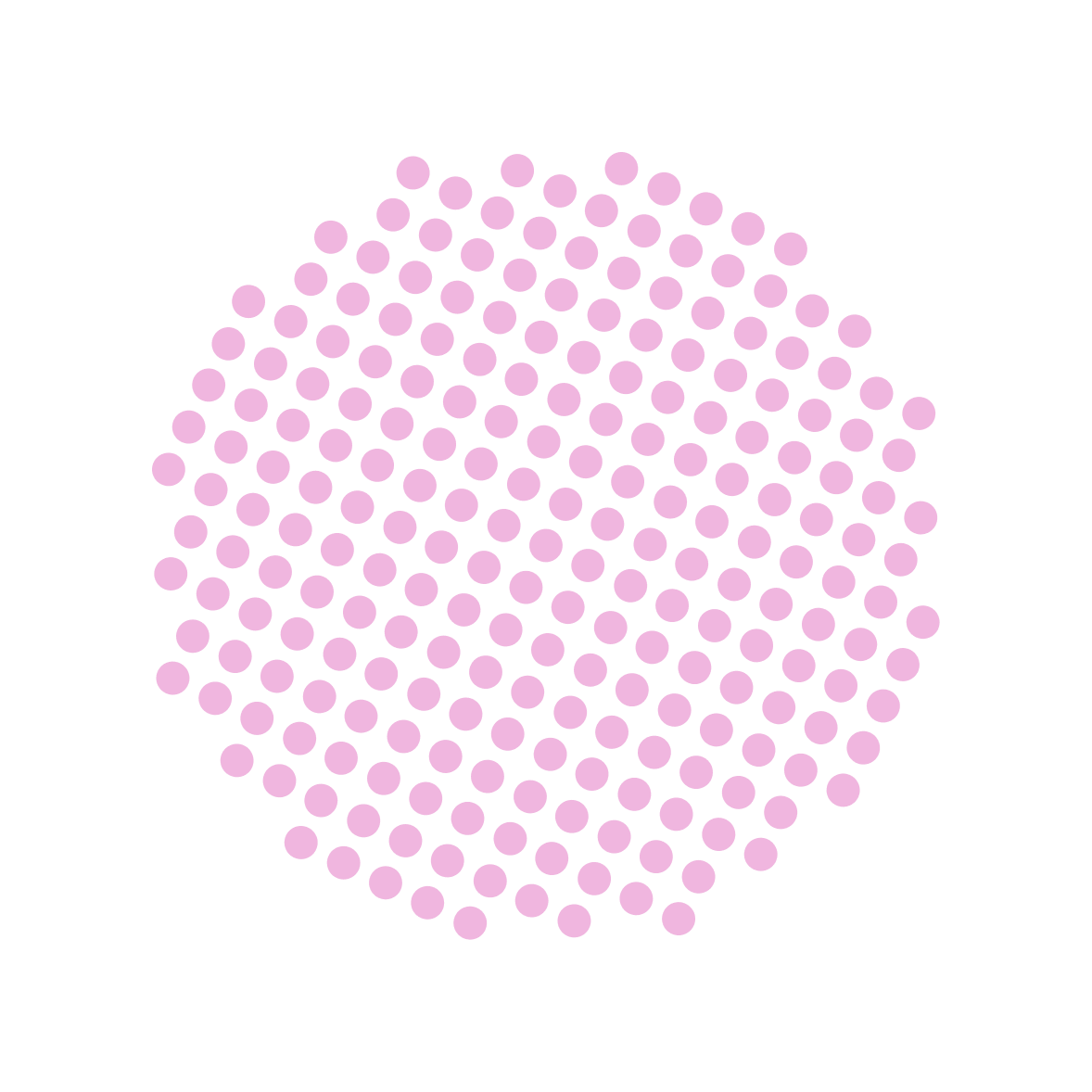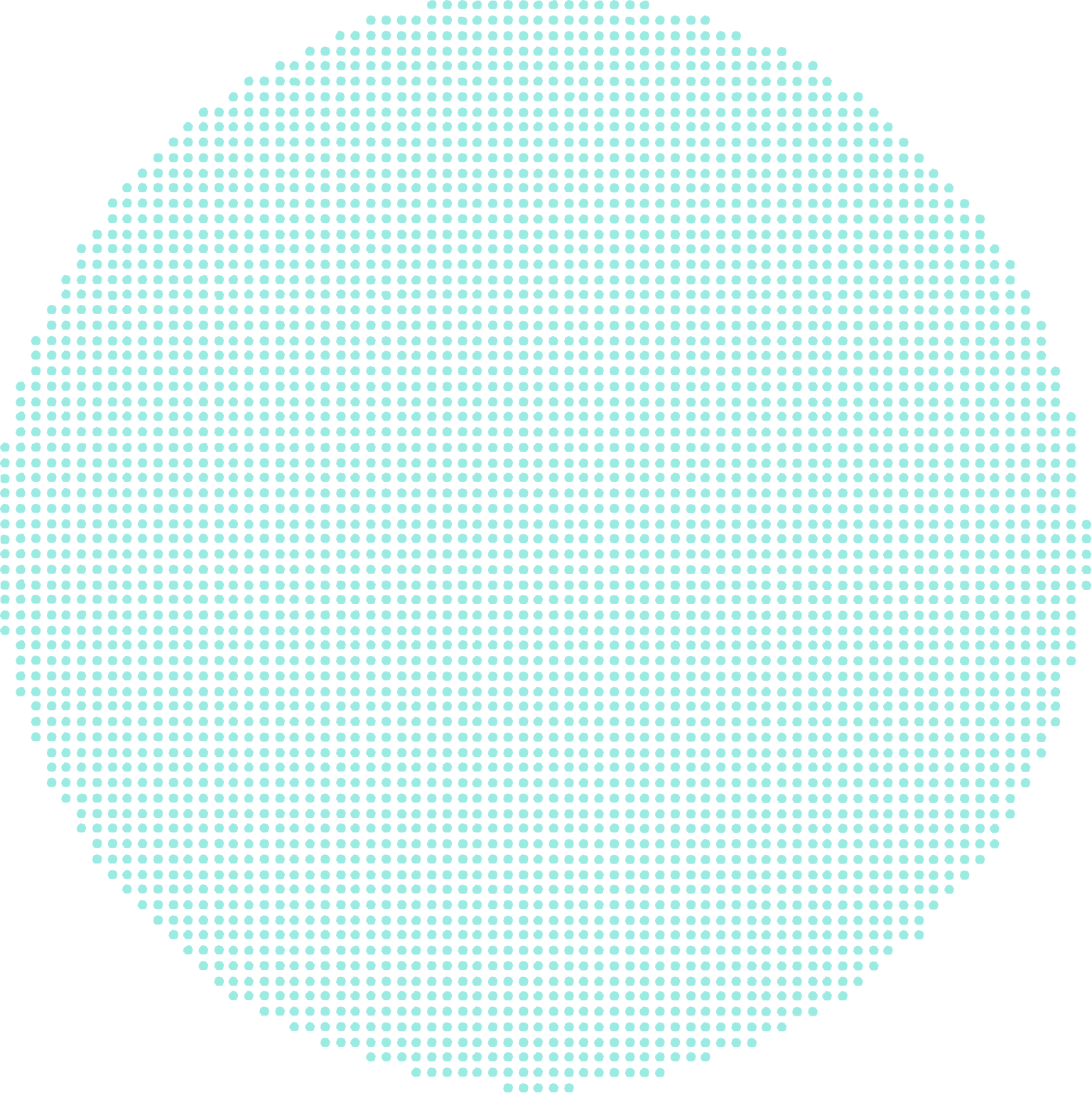 We have been resilient and adaptive in our COVID lives, changing our behaviours and forming new habits.  But how long does it take to form a habit? And will new habits stick?
Psychology has moved on from the old 1960's adage that "it takes 21 days to form a habit".  It's too short a time period for the neuropathways to form the habit-friendly patterns in your brain for new behaviour.  It's now understood, it takes at least 2 months or about 66 days, on average to form a habit.
Australians are now 60+ days into living life with new parameters established around COVID-19. As government moves to open up social and economic restrictions, what can we glean from ongoing research as to shifts in behaviours and habits?  And which newly formed habits will stick?
Increase in ecommerce
– Trend toward ecommerce has increased and expanded into new categories and acquired new users.
– One in 5 who ordered their last grocery purchase online did so for the first time. Will this newly formed habit continue? If so will consumers return to their favoured brands as they shop via mouse-click?  Or will their online lists start in the Specials section as reduced HH incomes from the fallout from COVID continue to bite
Considerations: FMCG brands strategies and messaging will require a shift in focus to adapt to the re-balancing of baskets, and now is the time to do so as media consumption is increased across multiple channels, the market remains quiet, inventory is available and cost efficient.
Online versus bricks-and-mortar
– Across numerous categories online sales are now out-performing bricks-and-mortar sales
– Online shopping order volume has increased 49% according to Rakuten Advertising's affiliate network year-to-date data, with a 28% month-on-month increase from February to March and a further 29% month-on-month increase from March to April (source: Adnews/Rakuten Advertising April survey).

Considerations: As reported in Kantar's COVID Wave 4 Barometer, after restrictions are lifted, 32% of Australian's feel they will "continue to buy from certain online stores I started to visit during the crisis".  This increased habit of online shopping places an even greater importance on brands to understand their customer online brand experience and when and where to communicate off and online with customers to retain / gain their virtual shopping loyalty.
Muuuuuum?  What time's dinner coming?
Our dinner time habit has shifted. The food order spike has moved 43 minutes from 7.06pm to 6.23pm.  Australians are wrapping up their WFH day earlier and settling in with family / housemates / partners, possibly in front of the TV, given the co-viewing increases previously reported.
ThinkTV's tracking of week 19 reports that News time slots continue to see increased viewership with 6pm bulletins up 31% and the 5pm slot up 28%, fitting in with the new dinner time nicely.
Re-evaluation of priorities is high in the minds of Australians as they contemplate a post-COVID life: "living a more meaningful life". Of those surveyed by NewsCorp 55% said they most wanted 'to see a change in priorities and values, including a greater focus on local, a return to family values, valuing the little things, a greater focus on family life, and getting 'off the treadmill'.
Considerations: As we move forward in re-establishing social and economic norms what products and services will continue to resonate with Australian's seeking a "more meaningful life"? In looking to reactivate marketing budgets, revisions to channel strategies and messaging need to be undertaken now to meet changing consumer focus both off and online.
We don't like to wait
– With our salons, beauticians and gyms closed, YouTube has become the Wiki of DIY. Since mid-March, YouTube data has seen a 600% increase in views of "with me" and a 700% increase in "at home".
– Videos with titles that contain the words "haircut," "home," or "how to" have seen over 56 million views, and "self-care" and home workout videos have increased 515%.
– On Pinterest there was also a 441% increase in searches for "temporary hair dye" globally, between March 9 and March 22 (Source: YPulse, USA Today, Glossy)
– Google Trends reports the Australian searches for "fitness" has risen by 450% over the last 30 days.
Considerations:  Half of all Australian shoppers are concerned about having enough money for their weekly shop and personal income is now a concern for 30 % of shoppers.  (Source Shopper Media Consumer Sentiment Study 11,390 Australians nationally April 24-27 April)
It is possible that consumers will hold onto this new habits of self-maintenance tutorials and at home fitness workouts post-COVID to save on what might now be seen as non-essential spending
What about our media habits?
A clear example of revised and new media habit has emerged in our radio/audio listenership.
Our change in routine and WFH has driven an increase in listenership of radio, both broadcast and streaming and podcasts, with 65% of Australians listening to as much or more radio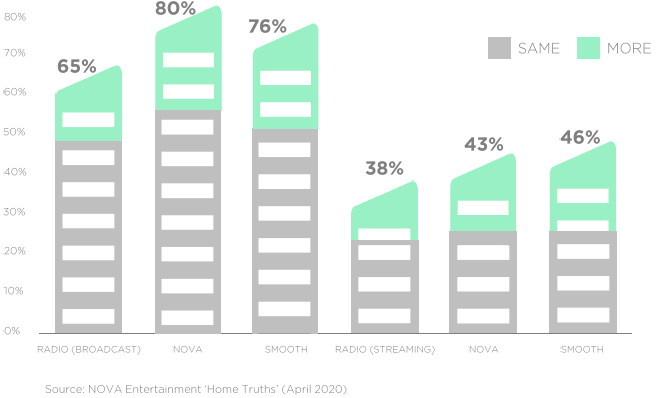 – Time spent listening is up 4 hrs per week, with people tuning in on average 1hr and 46 mins longer pw in lockdown versus the weeks prior.
– Australians are getting up a little later and switching off a little earlier – resulting in increased listenership across morning and afternoon sessions (source: NOVA Home Truths", online quant survey April 2020 sample 1,000 Australians 18+).
– And we are loving podcasts as evidenced in the top 100 podcasts downloaded in April reaching a new average weekly high of 5.5 million, according to Australian Podcast Ranker, which is up 14% on the previous result.
– The All-Australian Top 100 list reached 9 million average weekly downloads, up 10%. The April ranker included shows from the American podcast network Wondery, NBC News and independent Australian publisher Wavelength Creative for the first time.
– Our habit of enjoying our relationship with our favourite radio personalities continues with Australian radio show catch-up podcasts accounting for 11 of the ranker's top 20 most downloaded and listened to podcasts in the All-Australian list (source AdNews Australian Podcast Ranker for April 2020 – Downloads hit new high)
Considerations: Podcasts deliver a lean-in engaged consumer experience with high listening retention.  An average of 80% of podcasts listened to are listened the whole way through.  Brand messaging is delivered in an uncluttered environment which explains why Podcasts also drive action with 61% of podcasters taking action after hearing a podcast commercial message and 76% explored looking for more information online either via branded website or search engine (source: Podcast Intelligence Report : NOVA/Acast/ Ipsos Sample 1,300)
Advertisers should re-assess comms strategies now
With social distancing looking set to remain a norm for the foreseeable future, the current shifts seen in media habits are likely to stick across some channels.  These changes in media consumption should prompt advertisers to re-assess communication strategies now.
Considerations:
– Solo channels previously relied upon may now need to be boosted with partner channels to maximise reach, particularly important if a hiatus in advertising has occurred over the COVID period and brands need to work harder to gain back SOV loss
– Channel combinations that will drive incremental reach should be explored Eg Linear TV and BVOD, and cross platform opportunities that drive synergy and response Eg social media and OOH, TV, Search and Social. Kantar Australia Cross Media Effectiveness Studies research highlights media synergy contributes more than 50 per cent of overall brand impact and campaigns get 57% better results when integrated and customised across platforms.
It's been a tough time for many, and we know challenges lie ahead.  Paykel Media will continue to monitor our marketplace and our consumers to keep you informed. Contact us for more information.
Source: NewsCorp Australia's May The COVID Files Join our mailing list
Get the latest advertising tips, insights & be in-the-know with our e-newsletter Lens.