5 trends for 2022 & beyond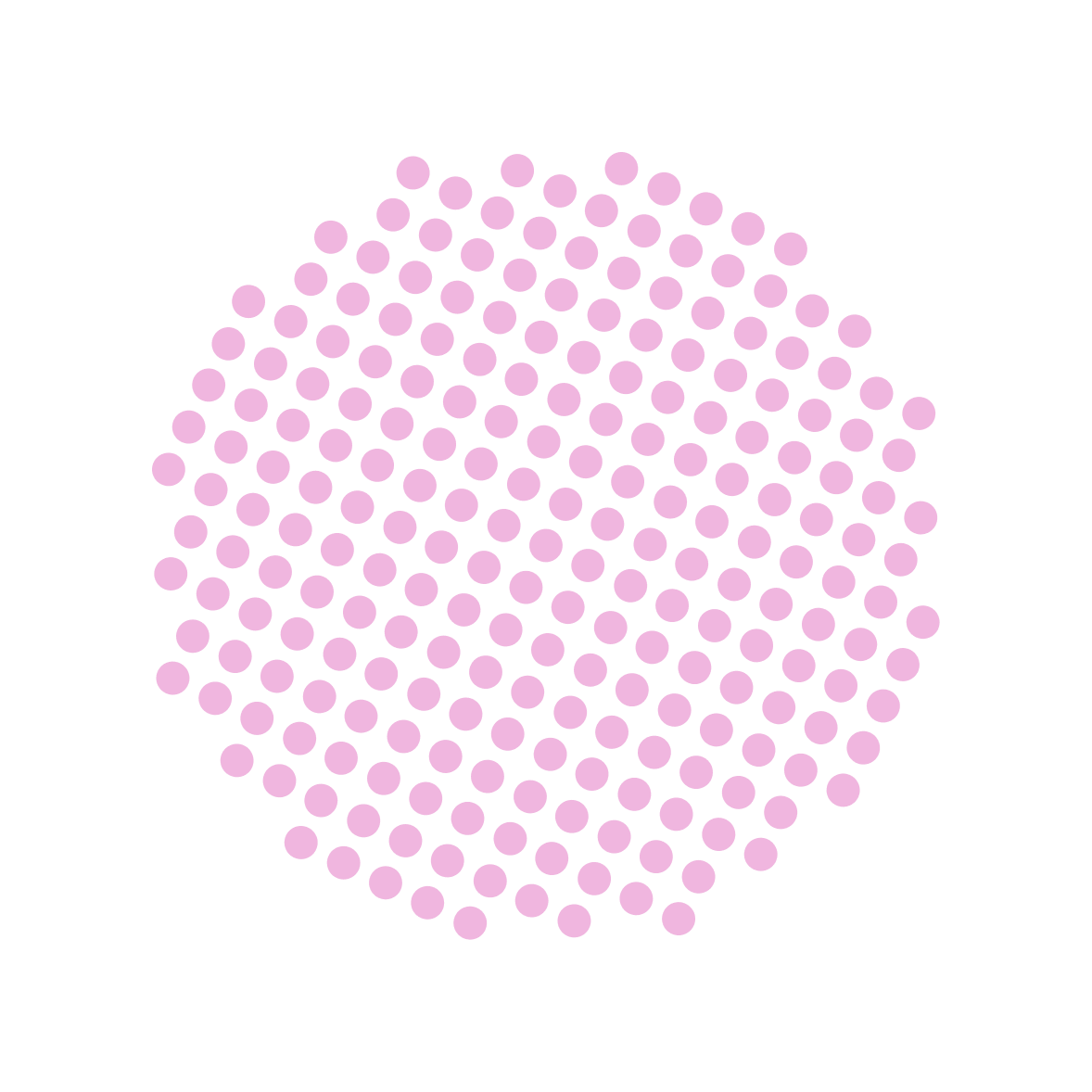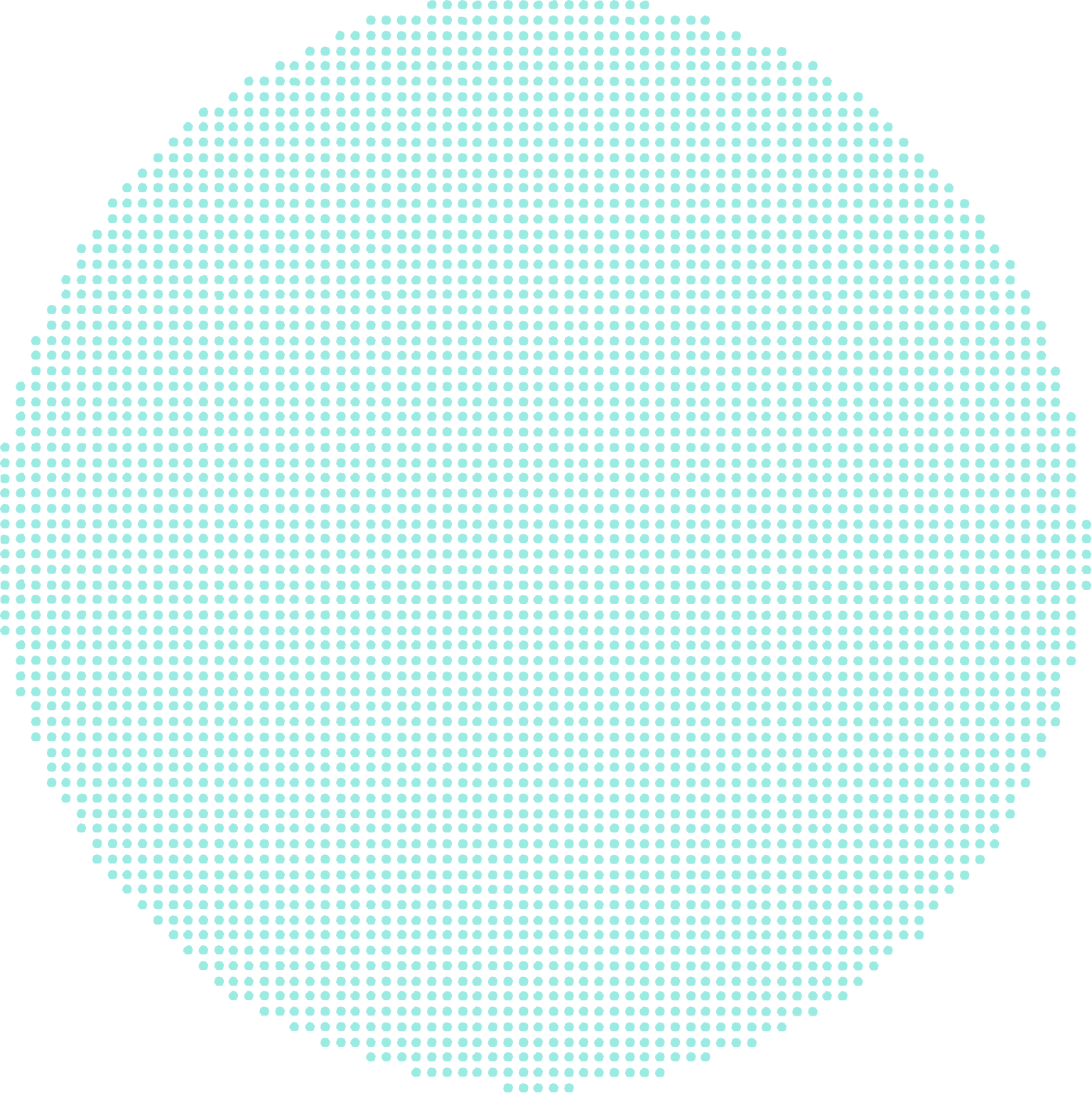 1.    Re-calibrating a media mix for the endemic
Why should you care? The pandemic prompted digital acceleration and e-commerce convergence, plus Apple's recent IDFA changes and Google's decision to phase out third-party cookies has certainly had marketers and their agencies re-allocating their media budgets over the course of 2020-2021 in favour of digital. But it is vital to understand that a key outcome of the pandemic influence on consumer behaviour is the consumer brand experience and purchase journey is no longer linear.  Cross platform strategies have been proven to drive incremental reach and ROI uplifts across multiple industry categories.  Having well researched and balanced assessment and implementing a diverse channel selection is critical in meaningfully reaching people.
During the pandemic advertisers recalibrate their channel strategies around COVID consumer and consumption behaviour. Skewing investment significantly toward Social Media, Connected TV (CTV), Online Video (OLV) and E-Commerce fast accelerated ad spend for many global advertisers despite the pandemic. For the first time in history increases in global ad spend (+22%) significantly exceeded global GDP (+5.9%), where historically ad spend and GDP trends were closely linked.
Global marketers will spend more than $52bn USD by 2023 on ads across websites or apps that are ecommerce focussed[1], with the largest and fastest growing player being Amazon. Predictions for CTV ad spend is that it will double the spend of 2021, and by 2025 will reach $34.9bn, equating to one third of video ad spend.
In Australia, changing media consumption patterns, accelerated by COVID lockdowns, resulted in strong growth for CTV spend, whilst desktop and mobile share of total video spend decreased.  Programmatic trading continued to hold strong with a 4.8% growth. Video advertising accelerated 38.8% to reach $2.376bn.
Australians adapting to life in a pandemic turned to multiple platforms for connection and engagement:
Virtual Reality was the fastest growing segment, with headset sales increasing consistently across 2020.
Transactional Video on Demand (TVOD) / Premium Video On Demand (PVOD) became the in-home cinema.
Gaming revenues rose by almost 10% in 2020, and traditional gaming was boosted by the launch of next-generation consoles from Microsoft and Sony in late 2020.
But whilst the pandemic has pushed consumers online and into digital channels, it is important to maintain perspective on which media consumers are spending their time versus the amount invested in those channels by advertisers.  The following chart demonstrates that there are key trends emerging to remind us that whilst digital is a part of everything, it is not the only thing across the consumption spectrum:
N.B A number above 100 indicates that the medium ad spend is larger than its share of consumption, and a number below 100 indicates the inverse[2]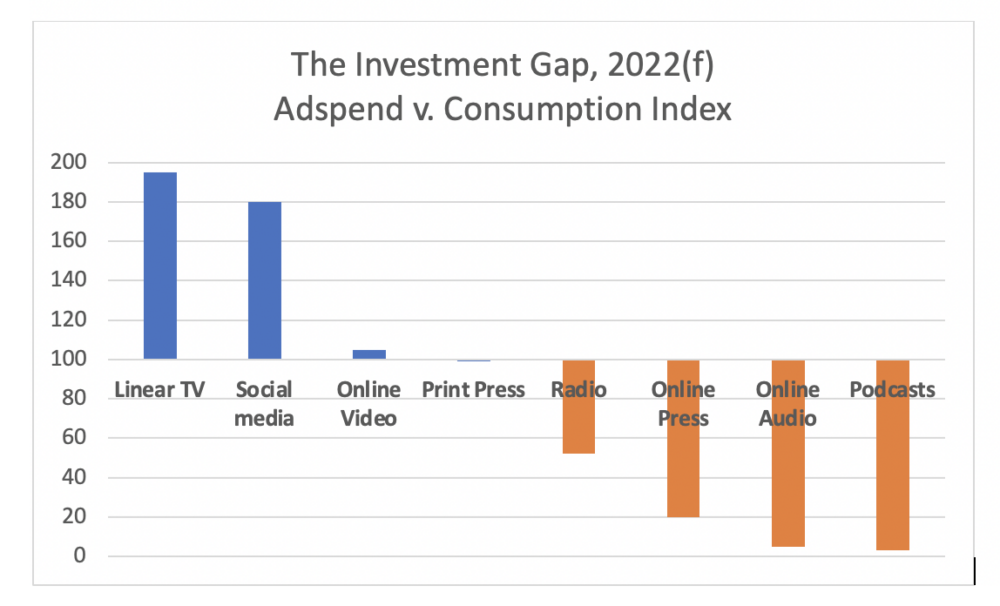 Key observations are as follows:
Globally, social media attracts more investment from advertisers than linear TV for the first time; however, both media draw far more of advertising budgets than the average consumer spends with these channels each day.

Linear TV is forecast to account for a 31.5% share of advertising spend in 2022, compared to a 16.1% share of daily media consumption.
Social media is estimated to garner 39.1% of 2022 ad spend among the eight media studied in the report but has a 21.4% share of daily media consumption.
In Australia, Social Media's share of daily media consumption is higher than its share of advertising budgets.

Globally, Audio formats appear to be heavily undervalued, podcasts by as much as $40bn. This channel offers significant opportunities especially targeting 16-24's. Online press is also an undervalued medium when compared to consumption.
2.    Brand(s) as an extension of self
Why should you care? Brand body language when lived and breathed authentically can deliver increased short-term efficiency and long-term profitability. Thinking 'brand in' and allowing your brand to be an extension of its consumers will deliver increased connection, preference in usage, long-term relationships and will continue to be important during the endemic and beyond.
The important thing is being authentic in your behaviour and what you are trying to achieve with any purpose-based marketing. This may take the form of deeper strategic relationships with like-minded vendors, resulting media and content partnerships to tell an authentic brand story, brand purpose and behaviours rather than relying on a 'brand out' advertising message.
With increases in consumer scepticism compounded by the availability of new information in real-time, brands can no longer just say what they do, how they do it, why they do it and then not deliver their promises. This represents 'brand out' mentality and increasingly drives a disconnect between brands and consumers. People today want the brands they use to be an extension of themselves. This means that brands must think with a 'brand in' mentality, inviting their customers along their journey, showing (not telling) them how their values align, across all touchpoints.
We are in an era of purpose driven marketing, and it is not going away any time soon. A 'brands body language', when utilised well and with authenticity, delivers significant effectiveness uplifts. In fact, a strong purpose can typically increase the amount of light product or service buyers, the highest volume of new customers available to persuade in any category resulting in significant market share gains[3]. The best example of this in recent years remains Nike and their continued support of brand ambassador Colin Kaepernick despite being boycotted by the NFL. Although there was significant backlash, ultimately the authenticity of the message and support won out, delivering Nike's highest share price in recent times as well as significant increases in online sales volume.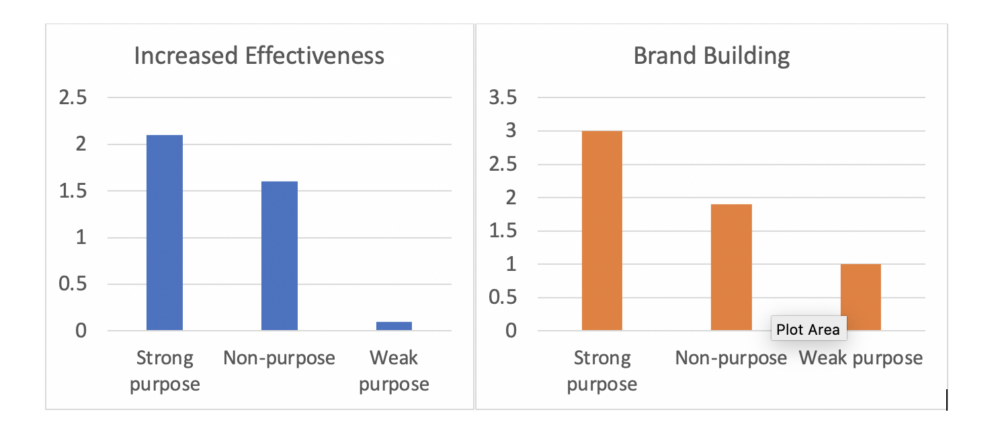 The same study evidenced those that only dip a toe in the water of living their brand body language or do so with inauthenticity see negative performance effects in weaker cases. Brands shouldn't try force fit purpose. We have seen so many brands try and fail from Pepsi and their 'Live for Now' featuring Kendal Jenner TVC trivialising the BLM movement in 2017 to Gillette and their Best a Man Can Be campaign from 2019. Both missing the mark on authenticity and whether they have a right for a voice on those issues. These examples were seen by consumers as attempted profiteering from the misfortune of others by aligning with social causes.
Some things to consider about living your brand body language:
Clearly define your brand behaviours that you want to live and breathe, then make sure all consumer facing touch points can live these behaviours.
Sense-check those behaviours against the realities of your business, inauthentic brand behaviour can have a negative effect on a brands health and performance.
Make a plan to address any gaps in your current behaviour and be upfront you're your customers bringing them along that journey.
Listen to feedback. A timeless brand is one that evolves. Just because something resonated yesterday does not mean it will for ever.
3.    Virtual brand identity crisis: Navigating The Metaverse
Why you should care?  The Metaverse is about a single person being themselves as authentically as possible, and sometimes engaging with brands for style or utility.
Metaverse users are demonstrating a growing desire to customise their avatars to reflect their own tastes – and to stand out from others. Brands operating in the Metaverse must be an extension of the users, and must get comfortable relinquishing control and empowering the user whilst also being responsive and progressive.
Virtual Worlds offer brands the opportunity to connect with their consumers afresh and extend their brand relationships within already an established Metaverse. But this must be done in an authentic way, adding value to a user's personal Metaverse, rather than acting solely in the interest of the brand.
Virtual Worlds are already huge in The Metaverses… Sorry Meta.
In 2007, Second Life was at the height of its success. The virtual world had hundreds of thousands of active residents and a self-reported $500m in GDP. Major brand players, like Reebok and Dell built virtual stores, readying themselves for the new world of marketing.
And then, it stopped growing, primarily due to technological frustrations. Users got tired of the hours of on-boarding required to enter the Second Life world. And if they did, it was a "ghost town."  Branded shopfronts were abandoned as they offered nothing to the Second Life user.
However, as the pandemic took hold in 2020 Second Life saw a resurgence.  Registrations increased as certain demographics explored the "metaverse" as they weathered the ongoing lockdown and isolation in their homes.  200 million daily active users processing more the 345 million transactions annually now pays more than $80.4 million to creators annually, boosting Second Life's economy by 30 to 40 percent.
Second Life is not the only online community people have turned to connect during the pandemic. Nintendo's "Animal Crossing: New Horizons" has millions using the platform as a social retreat. Fortnite (25m DAPS), Minecraft (4.3m DAPs), Among Us (60m DAPs) and Roblox (43m DAPs) are clearly hugely popular, especially amongst younger players.
How to navigate your brand through The Metaverse:
Virtual Brand Partnerships: As more users enters virtual worlds globally to socialize and play in a "safe space" how can brands connect in an authentic way that demonstrates commitment and purpose and not just an opportunistic sell?

Coca-Cola held a competition in which residents submitted designs for a virtual vending machine. The winner of the competition appeared in a video about designing a Second Life 'object'.
Starwood Hotels used Second Life to test building and room designs, taking suggestions from residents and incorporating them into real building plans.
Roblox in a partnership with Gucci brought to virtual life a version of the fashion house's multimedia exhibition in Florence, Italy, called Gucci Garden Archetypes. The experience included themed rooms focused on different Gucci collections and personalized textures and patterns for each visitor's "mannequin." The Gucci Garden also offered several themed rooms that paid homage to Gucci campaigns," including "a virtual lobby" where their avatars could view, try on and purchase digital Gucci items.

The best executions will be the ones that add value to the Metaverse experience then link that experience to the real-world.
   4. The On Demand Effect: I want it all. And I want it now…
Why should you care? Global supply chains are constantly evolving to deliver to consumer right now, thus being able to optimise in real time is critical.  But in many cases advertisers are finding that attribution remains too far behind to be truly effective.  It is a complex data ecosystem and marketers globally are re-visiting econometric modelling seeking fresh perspectives. In the meantime, building brand-consumer relationship has become ever more complex.  The tick-box list to success in consumers eyes has expanded to include, for example, expectations around sustainability credentials and brand purpose. 
The On Demand consumer see brands wholistically.  Over the course of the pandemic, marketing and communications trends have skewed to being digitally performance driven.  Brands are now facing the challenge of addressing the balance to build out sustainable relationships to secure a wider and loyal consumer pool and remain "on demand" and on the list.
"On Demand" is no longer a term applicable to just catch-up TV.  "On Demand" is meeting consumers where they are and where they will be in the future. Online, on mobile devices, at home, and at the time and place of their own choosing. In fact, "On Demand" means "Meet my expectations".  Woe-betide any brand that does not.
In the world of shopping, buying pathways and habits have changed in the pandemic.  Pre-Covid the focus was on bottom of the funnel via DR media to drive performance / sales. Now, as touchpoints are converging, channels that were used for awareness and education have become channels also used to drive purchase.
Salesforce numbers place the current average of physical and digital touchpoints across an individual shopping journey at nine, depending on location, category, context, and channel[4].  And consumers expect their experience across all touchpoints to be "frictionless": no lag, no delay, no lack of supply.  Connected commerce has become the new norm. This has meant that the traditional funnel journey has disappeared in favour of a multiple touchpoint concurrent journey and brands risk losing identity and control in this new expedited shopping experience.
A further level of complexity in the shopping ecosystem is retail media.  As consumers increasingly shop online their first search is within a retailer's own site (eg Amazon) and for brands, there is now not only the need to understand the differences in performance within these retailer "walled gardens" versus online and on brand owned media, but also how to expand the consumer-brand experience and build out longer term relationships within an environment over which they have little control.
Some things to appease consumers On Demand expectations:
Provision of a consistent, frictionless user experience across all channels
Investment in infrastructure and logistics to meet the promises of the brand and expectations of consumers
Expectation management in line with the reality of products and services being provided
Listening to consumers, identifying pressure points, evolving accordingly, REPEAT
5.    Unpredictable consumers require agile measurement
Why should you care? The continual change in consumer behaviours and the collapse of the traditional linear funnel journey means every touchpoint has become an opportunity to build brand AND drive performance.  As media companies continue diversify their offerings and embrace digital transformation, understanding where audiences are in the digital ecosphere and what balance of brand versus performance optimisation to be implemented to drive deliver greatest ROI is the ongoing challenge.
The answer is that there is no one-size fits all when it comes to measurement, therefore a triangulation of methodologies is required. Econometric modelling can yield strong and useful insights for strategic planning, but when marketers are in the thick of it, endeavouring to make dynamic decisions, such as during a pandemic, putting all the data eggs in one econometrics basket risks losing understanding of nuanced consumer behaviours. Brands are now challenged to be available in any way possible, therefore working with media and communications teams who can deep dive and analyse consumer research and overlay real-time brand and product data sourced across multiple platforms to generate robust and actionable insights is essential. 
Consumer journey attribution. Trustworthy scenario planning. Efficient buying decisions. Linear attribution and optimization. Market share. Sales. ROI. Customer Loyalty.  Social buzz.  Mental availability.
Data ownership continues to shift in favour of the consumer, highlighted by the impending loss of cookies and the increasing control consumers are exerting over which apps can track their behaviour and use their data.  Covid has fast-tracked digital shopping behaviours and much has been said over the past 12-24 months around the changing consumer journey; that it is no longer linear, that the traditional funnel is no longer applicable. Brand media versus performance media ratios have been under scrutiny as ongoing research continues to illustrate that underspend in brand advertising in favour of performance (essentially digital focussed) media drives shorter term results and weakens brands' performance and consumer relationships in the longer term.
Marketers and their agencies must re-evaluate meaningful metrics and the technologies to measure them. More than half (54%) of all brand respondents now view market penetration or customer gain as the most important barometer of marketing effectiveness, up from 44% last year, overtaking KPIs including sales, market share and ROI in popularity[5].  The 'softer' metrics such as awareness and social buzz are seen as less important in a post-pandemic environment.
Data management and the extraction of relevant and actionable insights is one of the biggest challenges facing marketers in 2022.  Which measurement methodologies can capture multiple metrics and drive outcomes?  Multi-touch attribution?  Last click attribution?  Econometrics / Media Mix Modelling (MMM)?  Attention KPIS?
Some key things to consider:
Barriers to entry for effectiveness research such as price and agility have becoming less challenging for many marketing and finance departments.
Once considered time consuming, expensive and lagging, marketing mix modelling (MMM) has now developed to be operable within weeks, with always-on live models able to be updated with estimates and benchmarks to facilitate real-time optimization.
More than four-in-ten (42%) marketers and agencies now use MMM, up from 35% a year ago,
18% are using econometrics, up from 17%
Attribution modelling is now used by a third of brands (34%), despite challenges around cookie data
[1] eMarketer October 2021
[2] Global Ad Trends Study – GWI & WARC 2021
[3] Peter Field, IPA EffWorks October 2021
[4] WARC: Beyond Omnichannel retail to Convergent Commerce Dec 2021
[5] WARC's Global Marketer's Toolkit 2022 Join our mailing list
Get the latest advertising tips, insights & be in-the-know with our e-newsletter Lens.